Everyone else is posting 2015 goals, so I had to jump on the bandwagon.
As I'm sure most of us are, I'm not very good at even remembering resolutions, let alone achieving them.
Plus, I like to call them goals because then it doesn't sound as cliche. I'm sure we've all heard the "parameters" we're supposed to put on goals. The "SMART" thing:
Specific
Measurable
Attainable
Relevant
Time-related
While all of this is great and helpful, I think we've all heard it one too many times. That being said, I'm not bashing New Year's Resolutions at all! I plan on this being a very big year and I want to set goals so that I can look back and be proud of what I will have accomplished.
So here are my goals for 2015:
1. Finish the 2015 St. Jude Country Music Marathon. This is my major one and the rest will kind of be because of this goal. Heck, I've got a whole blog devoted to it! I want to finish because it will give me pride in myself and my running ability. I have never been what you consider an "athlete" but I have always wanted to be! This is a natural progression in my running "career" and something that I am ready for and ready to be able to say that I've done it!
2. Clean up my nutrition during marathon training. I am not very good at eating healthy. But because my number one goal this year is (see above) and I know that eating healthy will help get me there, this is necessary. I seem to be all or nothing when it comes to food, so during the first four months of the year (training) I'm going to try to eliminate certain "trigger" foods for me. These will include: pizza from anywhere but my own kitchen (also not frozen), ice cream (froyo and sorbet will be ok), and Cheetos. These are foods that if I start eating, I can't stop. So I just won't start! And plus, they will make wonderful rewards once I'm done with the marathon.
3. Continue to focus on strength training. I know this isn't "measurable" but I don't think it needs to be. Again, this will help me achieve goal numero uno so that will be the measure of it.
4. (unrelated to marathon!) Continue to pay as much as possible into student loans. I'd love it if we could pay them off in 2015, but since I'm not sure that is entirely attainable, I'd like to make as big of a dent as possible!
I put these goals here so that I can be held accountable. I give permission to anyone who reads this to call me out! And please do. Also- I may need to make more goals after the marathon considering 3/4 of them are about it. So look forward to some mid-year goals!
And just a warning to everyone who goes to the gym regularly, this is a real occurrence that I dread: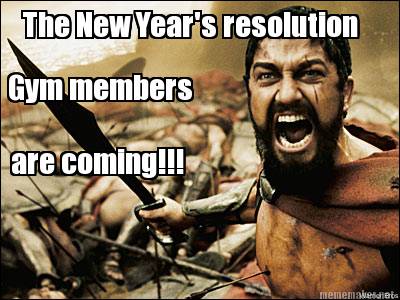 And one more for your viewing pleasure, because this is the most accurate:
What are you goals for the new year?
What goals have you achieved this year?